Aerial Mapping vs. Stitching

Pixpro Team

Mapping and photo stitching are two different methods of acquiring top-down orthophoto imagery of a given area. This article will explain the main differences between these two methods and their results. Some direct indications will allow us to differentiate and define what we call photo stitching and how aerial mapping is different.
Short Glossary
First, let us define some commonly used terms when talking about top-down aerial photos:
Aerial photo – any photo made from an aerial vehicle;
Nadir aerial photo – aerial photo made while facing directly down;
Orthophoto, orthomosaic, top-down panorama – a combined image of many overlapping aerial nadir photos;
Orthorectified orthophoto – is an orthophoto image with a corrected perspective. It means an orthorectified image looks the same (as if viewed directly from above) in all areas;
Control points (in this article) – points on a photograph, designating a clearly defined visual feature used to link many images together;
Drone mapping – is the most common form of aerial mapping.


Non-orthorectified vs orthorectified aerial imagery
Photo Stitching
Photo stitching – is a process during which the graphical content of the photos and overlap connect them into a continuous top-down panorama. For photo stitching to work, a sufficient amount of overlap is required. Stitching can work from as little as 10 percent overlap if the overlapping areas are full of graphical features for algorithms to create control points. Recommended safe overlap value is 30 percent to ensure good panoramic stitching in most cases. The result is a stitched and blended image that should not have visible seams or discolorations.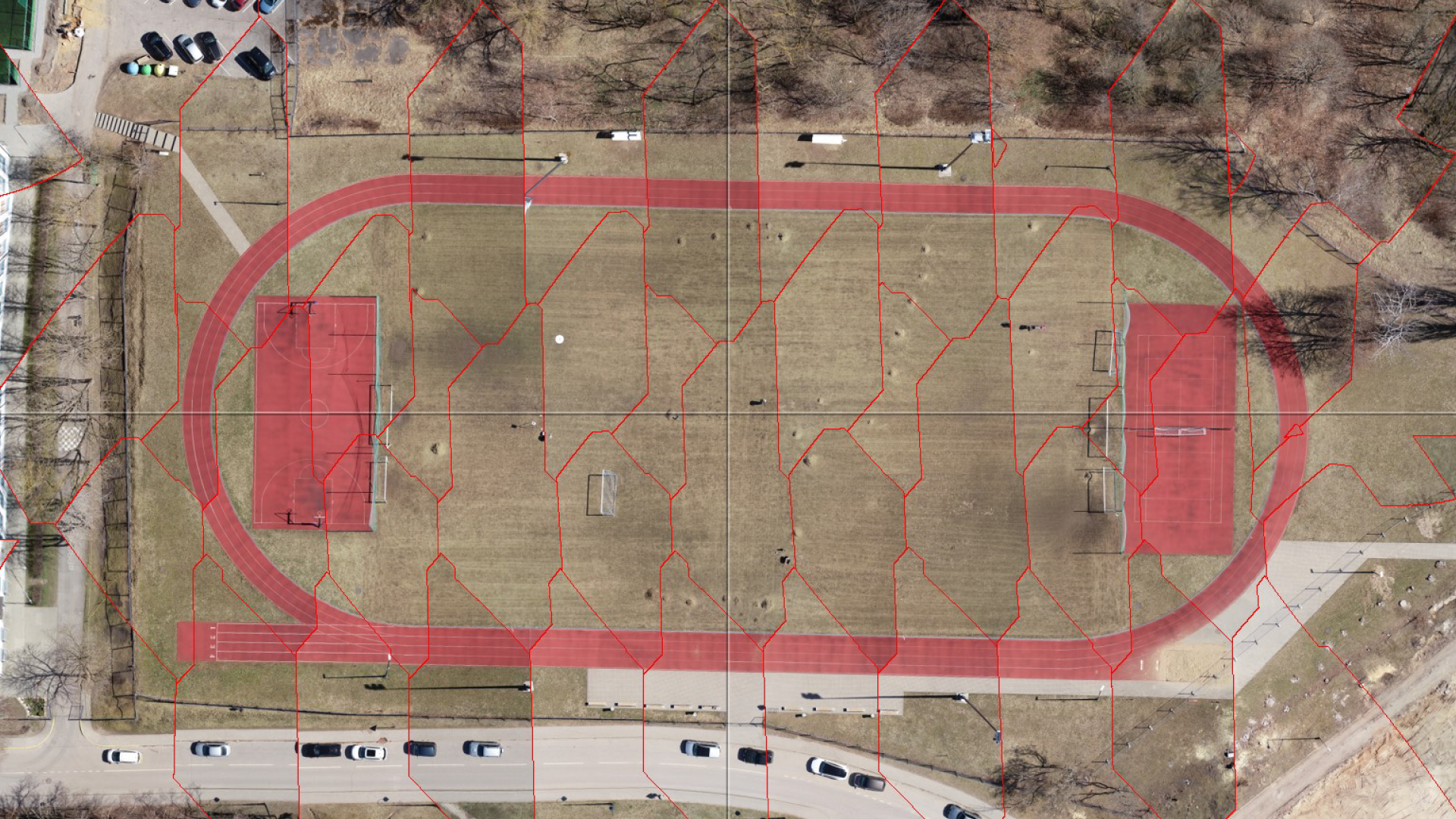 Orthomosaic image containing 45 photos blended together
Aerial Mapping
Aerial mapping is photogrammetry. A proper mapping process requires 80 percent overlap, takes much more time to complete than stitching, and provides more results. Photogrammetric algorithms undistort the input images to high precision, making the input data free of geometric distortions. Photogrammetry algorithms also need many more control points than stitching. At the same time, GPS and camera orientation photo metadata allow scaling the project accurately. A successful mapping process creates an entire photogrammetry project containing 3D point clouds, 3D mesh, and DEM surfaces. 3D surfaces have textures and orthophoto, which are orthorectified.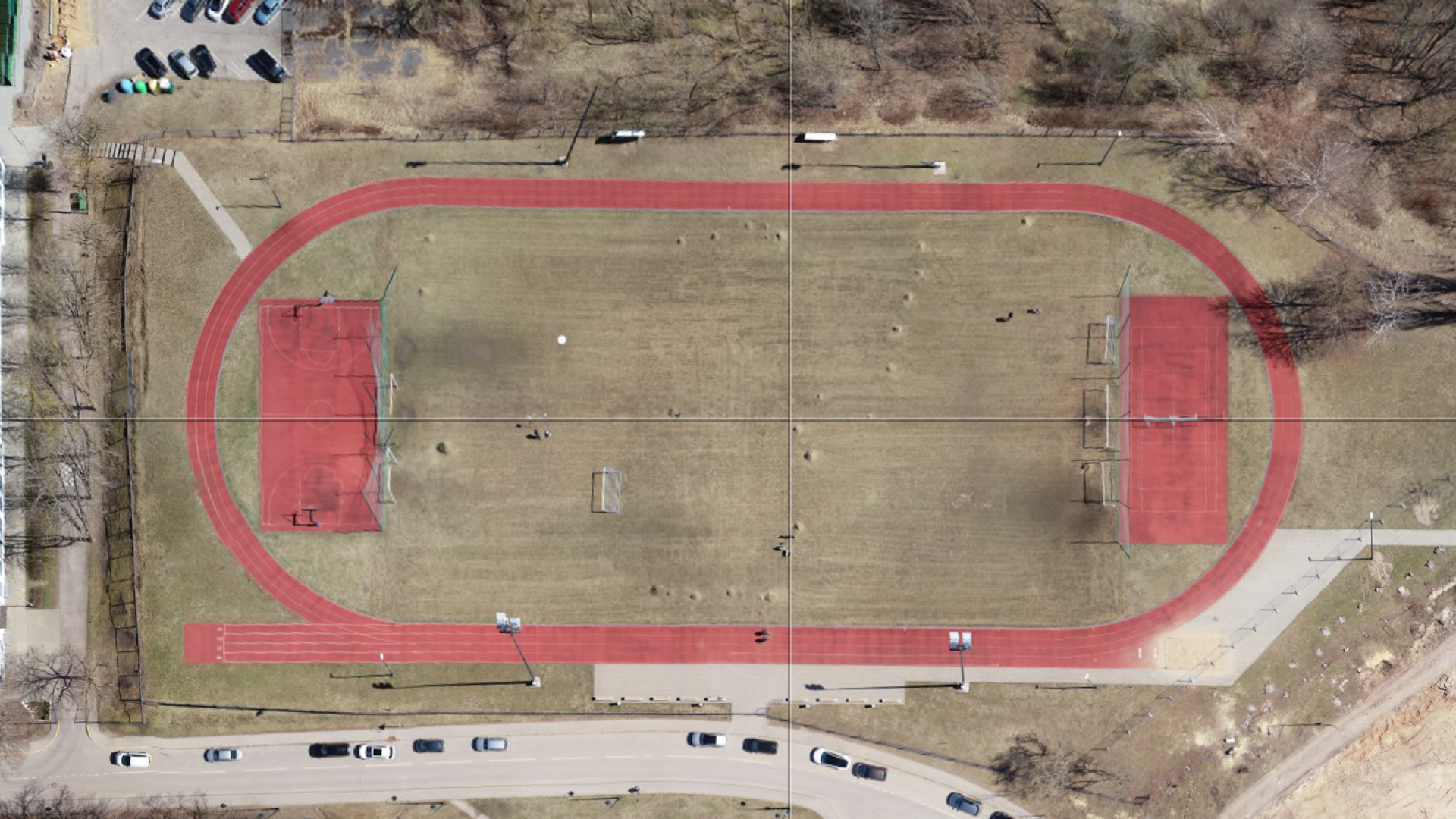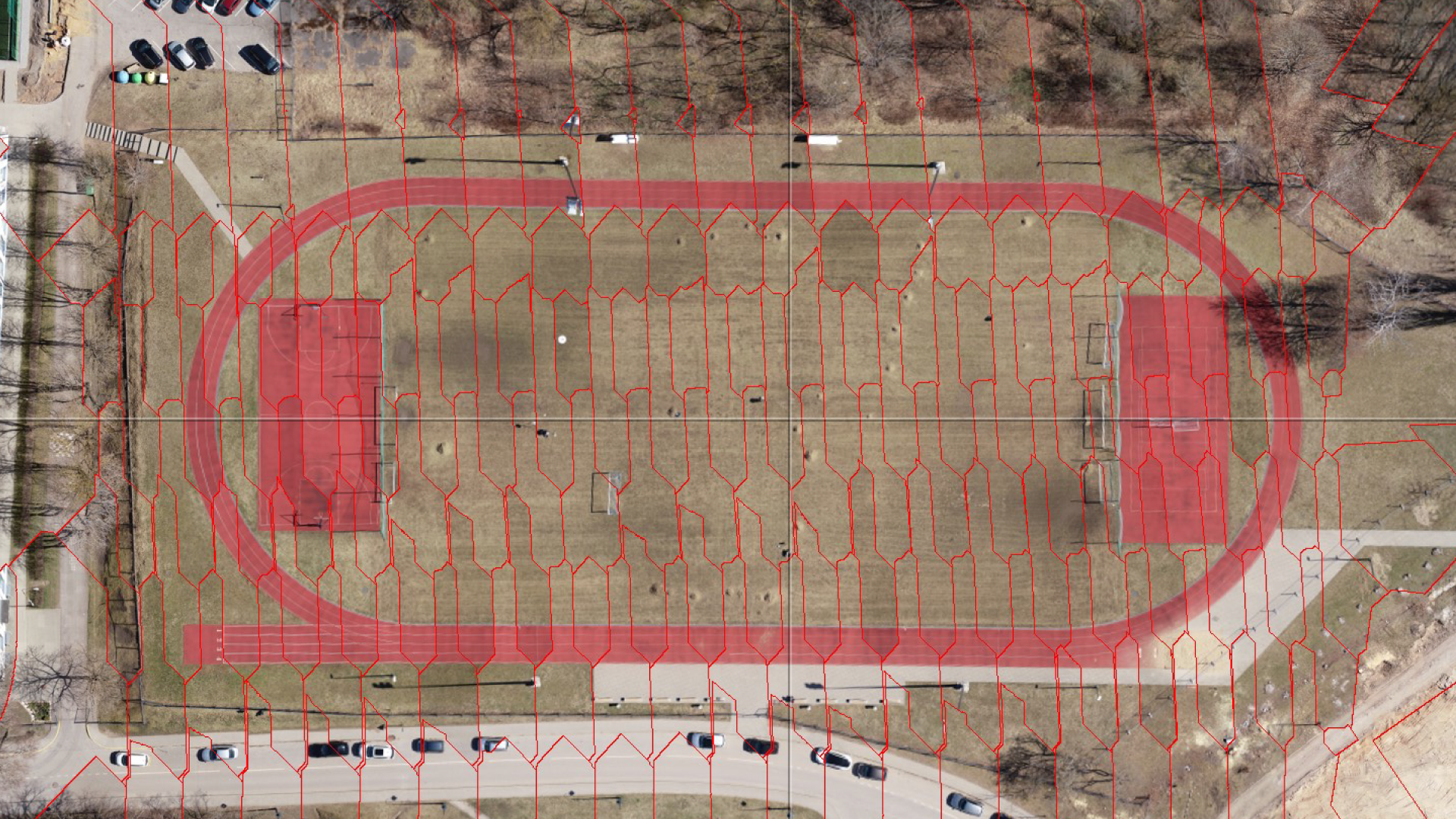 Orthomosaic image containing 179 photos blended together
Aerial Mapping Data
Aerial mapping workflows also encompass external data collection and processes to improve mapping accuracy. Most commonly, additional data for mapping cases are ground control points, flight tracks, and procedures such as PPK corrections.
Use cases
Stitched top-down panoramas have use cases in more art-related areas or for rough visual inspection when measurements and precision are not required. Moreover, panoramic stitching software can create panoramic images in mere minutes.
Accurate orthorectified images and 3D surfaces are obtained through aerial mapping only. Long photogrammetric computation provides high precision and enables measurements. There are endless use cases for aerial mapping, from mining to construction, surveying, monitoring, and conservation, to the architecture, heritage, and entertainment industry. Using aerial photogrammetry can increase safety and efficiency in these industries. At the same time, drone mapping provides results that might be unachievable otherwise.
Conclusion
Both photo stitching and drone mapping have their respective advantages and added value. While drone mapping requires a lot more skill and time to do, it provides much more results compared to simple photo stitching. Pixpro photogrammetry software is a tool for drone mapping. Try our software for free here and explore aerial mapping now.
Ready to get started with your project?
You can choose from our three different plans or ask for a custom solution where you can process as many photos as you can!
Free 14-day trial. Cancel any time.