DJI Matrice 30 for Photogrammetry?

Pixpro Team

DJI Matrice 30 quadcopters are new mid-range enterprise drones from DJI. These models sit between the M300, which has removable payloads, and the more compact Mavic 3 Enterprise drones. We secured an opportunity to try the M30T for a short while, and we will share our experience and opinions about the drone. After four days of testing the drone, we will provide our unbiased view.
DJI Matrice 30 Series Features
The difference between the M30T and M30 is that the non-T model lacks a thermal camera. Otherwise, both machines are identical. The radiometric thermal camera outputs JPEG images in your chosen color palette, which are 640 by 512 pixels. This camera has a field of view of 61 degrees, equivalent to a 40-millimeter lens on a full-frame camera. A little zoomed-in, similar to what you get at 2x zoom on a smartphone. Thermal camera operational range covers from -20° to +500° C. Otherwise, the specs are as follows:
Aircraft:
3.77-kilogram weight with IP55 ingress rating;
Operating temperature -20° to 50° C;
The maximum horizontal speed of 23 m/s (80 kph) and wind resistance of 15 m/s (54 kph);
Full suite of obstacle sensing cameras in all directions;
Auxiliary lights top and bottom;
Foldable design. It comes with a hard case;
Maximum advertised flight time of 41 minutes;
The aircraft contains an unstabilized wide-angle FPV camera that is facing forward.

Payload:
Gimbal with a broad motion range can pan while the drone is stationary.
Zoom camera with a 1/2″ 12-megapixel sensor (48-megapixel quad Bayer) and an equivalent: 113-405 mm zoom lens. 405 millimeters can be regarded as 17x optical zoom when compared to the wide-angle camera;
Wide angle camera with a 1/2″ 12-megapixel sensor, with a familiar wide-angle field of view of 84 degrees (1x).
A laser module capable of measuring distances up to 1200 meters.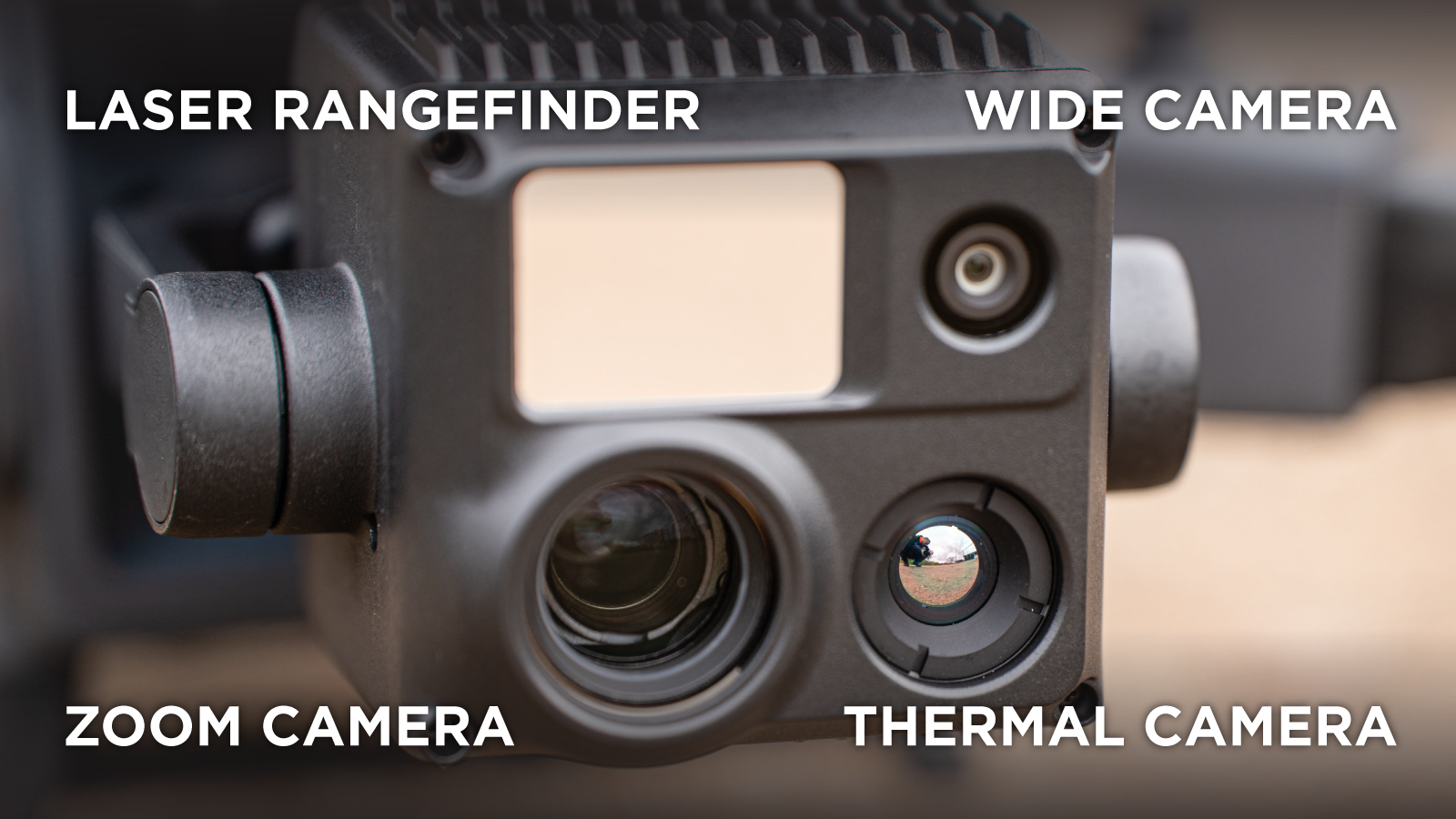 DJI Matrice 30 Accessories and Price
The M30 series drones come with high-quality enterprise-grade accessories:
DJI RC Plus remote controller with many buttons and DJI Pilot 2 application interface. It has an integrated and swappable battery, a spot for a modem, a bright 7-inch screen, and an assortment of ports. There are no faults in this remote controller. It is as good as it gets nowadays. Large but not cumbersome to use and has an IP54 rating.
BS30 intelligent battery station – a battery charger integrated into a rugged case. It can charge a pair of batteries simultaneously and hold eight pairs in total. All charging features needed to ensure the safety and health of the batteries are there.
Rugged carrying case for the drone. A good quality case with wheels and extending handle. You do not need to buy a separate case when you have this one.
The package includes a pair of TB30 batteries, replacement propellers, and cables.

When purchasing the M30 series drones, you will need to buy extra pairs of TB30 batteries for the drone (it takes a couple of batteries to run the drone). Also, if you want more life from the controller – you will need extra WB37 batteries. Additionally, micro SD cards for storage will be required.

The price you pay for the kit is reasonable. It is unusual to see only a single pair of batteries included by default in all options and not a single additional battery for the remote. A comprehensive kit for any operation will cost at least 10 000 euros for the M30 and 15 000 for the M30T in Europe. Other optional accessories will eventually become available for the additional ports on the top of the drone, further increasing the associated costs.
Software Experience
New DJI Enterprise drones use the DJI Pilot 2 App, a much-improved version of Pilot 1. The application is not that different from DJI Fly and is easy to use for anyone picking up a DJI drone, not for the first time. It also contains some flight planning features and basic photogrammetry flight plans. From our short time with it, it left a good impression. All essential elements are easy to access. It also has unique functionality related to the laser module and multi-camera functions, such as side-by-side view and object tracking. The app as it stands today can be explored and mastered in a couple of hours.

DJI Enterprise SDK for usage on their own devices is now available. 3rd party software can be developed and installed on remote controllers running the DJI Pilot 2 apps. It is good that DJI gives this opportunity. Still, it has become apparent that drones that use the Fly app will not get an SDK for android or IOS. DJI is drawing a clear line between consumer and enterprise drones. But this line is drawn for profit reasons, to force people to buy more products to get features that could be readily available in cheaper consumer-grade drones.
DJI Matrice 30 Flight Experience
We flew the drone a few times and took it to an inspection/3D scanning job. The flight is a quintessential quadcopter experience, most reminiscent of flying an Inspire 2 drone. It is large and loud but fast and stable. All safety features are in place, controls are the same, and it is not any harder to fly than any other DJI drone. Unlike the Inspire 2, the M30 drones fold up and take much less space when in storage. The unfolding carbon fiber arms lock securely while the whole thing feels solid. The real difference compared to most other drones is the ability to hot-swap the batteries. It eliminates the need to turn off the aircraft when swapping batteries, saving time.
M30 and M30T Use cases
DJI Matrice 30 drones were not made for photogrammetry. These are for search and rescue, inspection, and safety applications, with some photogrammetry functionality and adequate image quality. We made an RGB and a thermal imagery scan for a solar park inspection use case, and it worked fine. But we could do the same with the Mavic 3T drone, which costs much less and provides the same features and quality. While the Mavic 3E and the good old Phantom 4 RTK remain best for regular photogrammetric 3D scans.
The main differentiating factors from other drones are the IP55 rating and the mighty zoom camera. With water resistance, you can confidently fly during rainy weather during a mission when lives are at stake. You can use a thermal camera to spot people or animals at night. At the same time, the zoom camera will provide a close-up view of any object far or close. The laser module will be of service when you need to send people to precise coordinates or save these coordinates for later use.

Conclusion
DJI Matrice 30 series UAVs are expensive and capable enterprise drones for inspection, search, and rescue operations. These drones are for you if you are from the public service sector and require an easy-to-use, reliable machine. Where you need the thermal imagers is up to you, but remember that the payloads are not interchangeable. Once you choose the M30, you will not be able to add a thermal imager to your drone. For photogrammetry purposes, we will look into the Mavic 3E more closely, which seems to be the spiritual successor of the Phantom 4 RTK.
Ready to get started with your project?
You can choose from our three different plans or ask for a custom solution where you can process as many photos as you can!
Free 14-day trial. Cancel any time.