DJI Mini 4 Pro Review and Comparison

Lukas Zmejevskis

DJI Mini 4 Pro Review and Comparison
DJI Mini 4 Pro is here only after a year since the DJI Mini 3 Pro was released. DJI opted to make a quick incremental update without inflating its price. However, some might say that the new version is more than incrementally better and represents the ultimate technological capabilities of su 250-gram drones. In this blog post, we will compare the Mini 4 vs. Mini 3 and present all the facts about the new drone.
DJI Mini 4 Pro vs. DJI Mini 3 Pro
These are the main upgrades that the DJI Mini 4 Pro received over the DJI Mini 3:
Omnidirectional obstacle avoidance. Now, the drone has a full 360-degree bubble of obstacle avoidance instead of only front, back, and bottom—a significant flight safety update.

New remote controllers and the new O4 video transmission. DJI's latest hardware and software protocols for incredible range and connection stability.

Imaging pipeline improvements that allow 10-bit DLOG-M and HLG color profiles, 4k 100fps slow motion, night mode, and other minor improvements.

Active track 360 - more sophisticated subject tracking enabled by omnidirectional obstacle avoidance.

Minor hardware improvements include an added LED light on the bottom, a better gimbal guard, a propeller strap, and legs on the front arms.

New Hardware

DJI Mini 4 pro comes with a nicely redesigned gimbal protector, a finicky propeller guard for transportation, and the new RC-N2 remote controller, which is identical to the N1 from the outside. The only sign of difference is the printed name on the back. Mini 4 Pro can also come with the new DJI RC2, which we had during our Air 3 review, which offers a more substantial upgrade over the older model.

The drone body is the same size and weight as the Mini 3 Pro but has all of the hardware necessary for obstacle avoidance to work. Now, this sub-250-gram drone has six avoidance cameras and an LED light with a sensor on the bottom. The technology density of this device is impressive.
Flight Experience
DJI Mini 3 Pro always felt great to fly. The new Mini 4 Pro is only better. The new O4 image transmission is rock solid; even when pushing the boundaries of logical drone piloting, we never managed to get any deterioration of the connection between the remote and the drone. Drone dynamics are good, too; the small drone is agile and responsive.

The newest update of DJI's active tracking is the best yet. We only did some simple tests, but to fully appreciate the capabilities of this new system, you should check out this video made by DC Filmmaker. We hope these capabilities will come to Mavic 3 and Air 3 drones via software updates.
There is nothing negative about piloting a DJI Mini 4 Pro drone. It is the industry benchmark at the moment. With the addition of omnidirectional obstacle avoidance - there is the final layer of safety that inspires ultimate confidence when using this drone. It already came in handy during our time with the drone.
DJI Mini 4 Photo Quality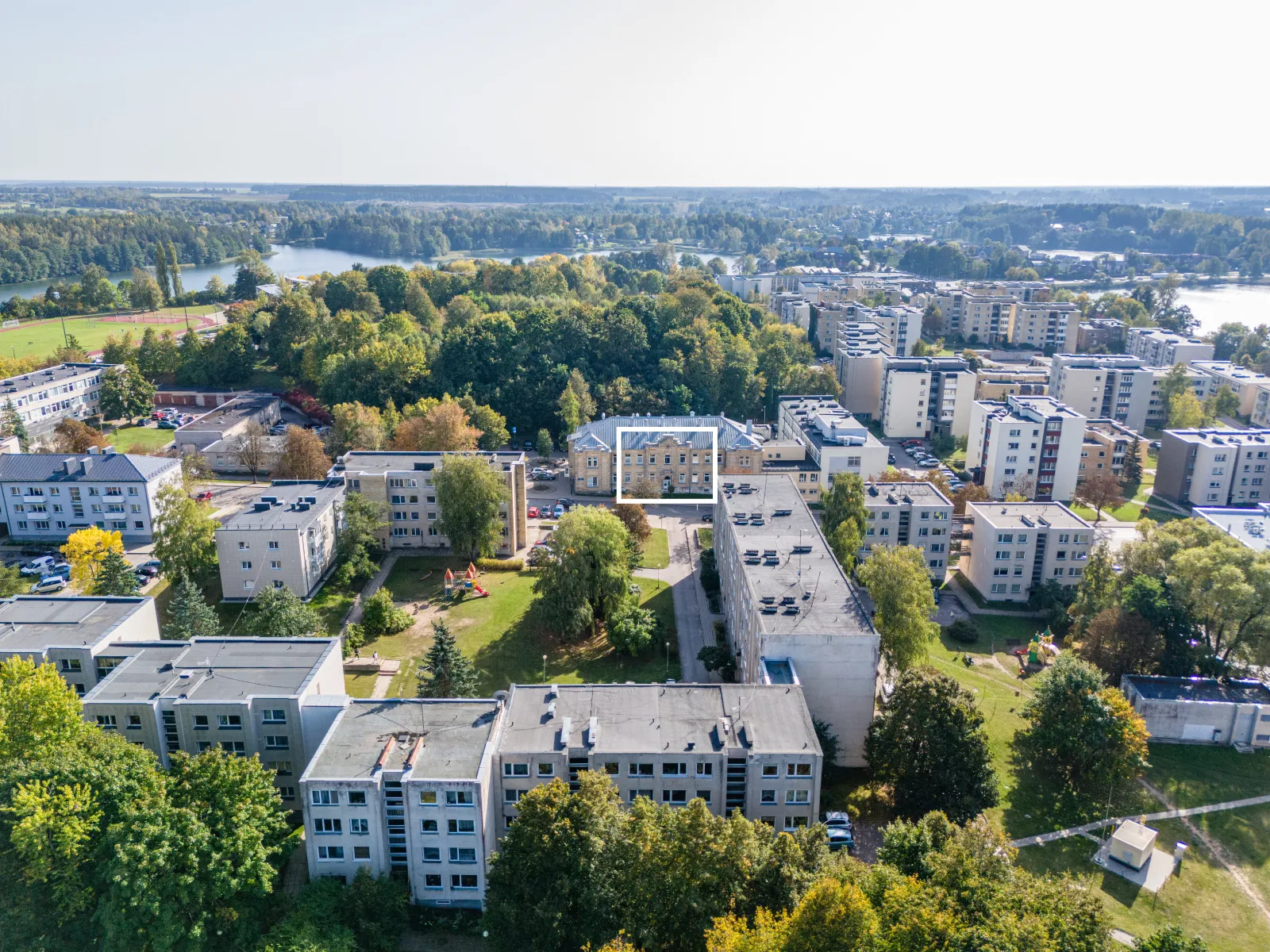 Improved imaging pipeline brings minor improvements to the photo quality. The 48-megapixel mode is now in the camera settings section and not as an additional shooting mode (like it is with the Air 3 and Mavic 3 Pro). Also, it offers a bit more of a detail boost when compared to what the Mini 3 Pro 48 megapixel mode used to offer. It is entirely your decision if the slower operation and file size are worth the slight increase in detail. Remember that the quad-bayer type sensor does not give an actual 48-megapixel image and produces more artifacts and noise in the higher resolution mode.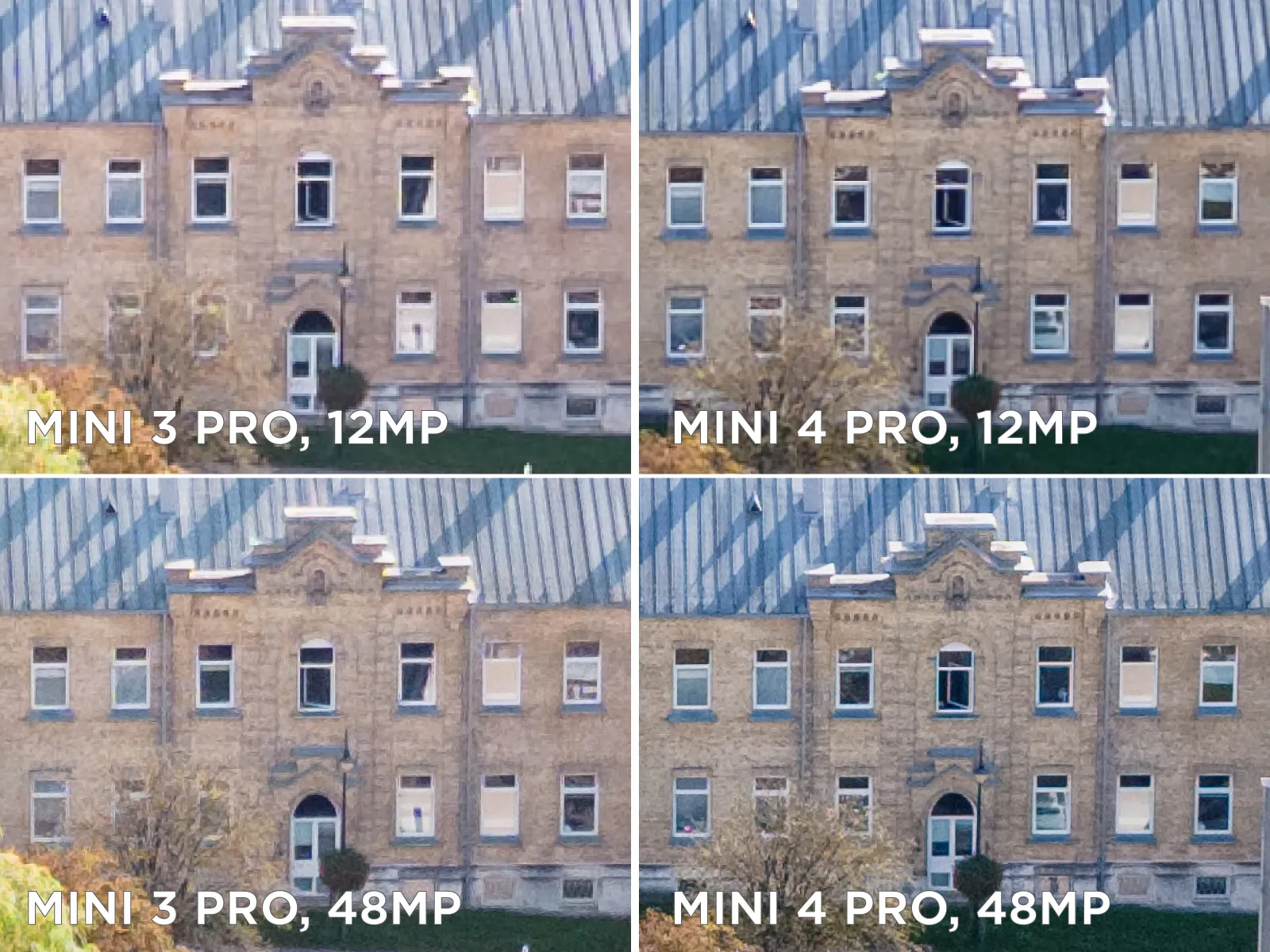 DJI Mini 4 Video Quality
The video sees a more noticeable bump in quality and image appearance. The color and highlight roll-off seem more refined, and DJI promises a better dynamic range for all framerates. Also, now we can choose the HLG and DLOG M color modes for all shooting modes.
Low light performance is also incrementally better, and the more sensitive Night mode appears in the Mini 4 Pro - it provides a further boost in brightness for people who do not want to post-process their footage to achieve a similar effect.
Finally, there is the 4k100 fps mode, which provides surprisingly good 4x slow-motion footage. It is perfectly usable in ideal lighting conditions, and we noticed that the automatic shutter speed in this mode can go up to 1/16000th of a second. 200fps 1080p mode is much less sharp and produces ugly artifacts. However, it does not crop into the footage, retaining the same field of view.
DJI Mini 4 Pro for Photogrammetry
The photogrammetric capabilities of the Mini 4 Pro are the same as other DJI drones without third-party app support. Mini 3 series drones have third-party app support - thus automatic flights. They might be the better photogrammetry option for now. We do not know if Mini 4 Pro will receive the SDK support; if it does, that will be great long term.

For this blog, we made a multi-orbital scan of a roof using the technique described in our hyperlapse photogrammetry article. We processed the photos in Pixpro photogrammetry software.


Conclusion
The DJI Mini 4 Pro brings incremental but valuable and practical updates for the same original price as the Mini 3 Pro. It again sets the benchmark of what is possible at sub 250 grams, now officially the A0 designation in Europe. It is the least regulated drone category, but despite that, Mini 4 Pro brings almost professional quality photos and video with a package that can fit your pockets.
Ready to get started with your project?
You can choose from our three different plans or ask for a custom solution where you can process as many photos as you can!
Free 14-day trial. Cancel any time.