DJI Air 3 Review and Comparison

Lukas Zmejevskis

DJI Air series drones bridge the gap between larger and more expensive Mavics and physically smaller Mini-series drones. The newest DJI Air 3 brings lateral changes, incremental improvements, and more significant changes to the series. It marks another update for the image transmission system and, therefore, a refresh of the remote controllers. Now the drone features a complete 360-degree obstacle avoidance and a dual camera. We tested the drone as usual, and here are our impressions.

Flight Experience
DJI Air 3 may be a third-generation Air series drone, but overall it marks a 5th (approximately, depending on how you count generations) generational improvement of DJI drones. It means - the best flight experience on the market from all aspects. Image transmission, flight dynamics, stability, takeoff or landing - every essential part of a drone flight works perfectly. Therefore there is little to say - incremental improvements over already best stuff on the market is just a natural progression and means you are getting a "safe" product.

Suppose you want to dig deep and find something to complain about. In that case, the drone is not that fast in normal mode - 12 meters per second only. Also, battery life estimation is ridiculous in marketing, as always; in reality, you get about 32 minutes of flight time which is great but not close to claimed 46. Air 3 is a little larger and heavier than previous air drones, but it is still foldable and comes well within C1 drone class, with the label included.

DJI Air 3 Fly More Kit
We borrowed the fly more kit for our testing with the new DJI RC 2 controller, which contains a built-in screen. The new remote has external antennas, a better processor, and active cooling (an audible fan spins up when it gets hotter). These improvements make the new remote a noticeable upgrade over the first DJI RC. The app works very smoothly, and there is no range penalty compared to the screenless option. Its price remains reasonable (200 euro upcharge), an excellent option for those who do not want to use their phone as a screen.
The kit also contains a bag and a charging hub for the three included batteries. This charging hub also has functional upgrades - it can distribute charge between the batteries and act as a power bank. For more information on how it works - watch this official video from DJI.

The Dual Camera
We established that the platform is good; let us move to the payload. DJI Air 3 has a dual-lens camera system made up of both modules we have seen before. The wide angle module (will be referred to as 1X) is roughly the same as the one in Mini 3 drones, while the tele module (the 3X) is the same as Mavic 3 Pro 3X. And to summarize it shortly - this is a killer combo for photo and video. Both modules have the same 48 - megapixel, 1/1.3-inch quad-bayer sensor and can shoot in 12 and 48-megapixel modes.

More technical folk might ask - what about the "downgrade" of the sensor size compared to the Air 2S? While the 1/1.3 inch sensor is smaller than the 1-inch class unit in the older drone - the overall light-gathering capability of the 1X camera remains similar due to the brighter f1.7 aperture. So it is not technically a downgrade; the brighter aperture compensates for the sensor size difference. The 3X lens, however, does gather less light with its f2.8 aperture in exchange for the longer focal length. Therefore, as always, you need to expect a lesser low light performance from the tele module.
Air 3 Photo Quality
During our review of the Mini 3 Pro, we concluded that the 48-megapixel mode is not worth the hassle. In contrast, the Mavic 3 Pro review showed that the 3X lens does benefit from the higher resolution readout. Confusingly it is closer to the opposite of the DJI Air 3.
Wide-angle photos show more detail in the higher resolution mode. At the same time, the 3X module produces more similar results between the different resolution files. However, we noticed that the result might vary depending on the subject. 12-megapixel photos are excellent for most users, but if you need to extract the maximum amount of detail, the 48-megapixel mode is there.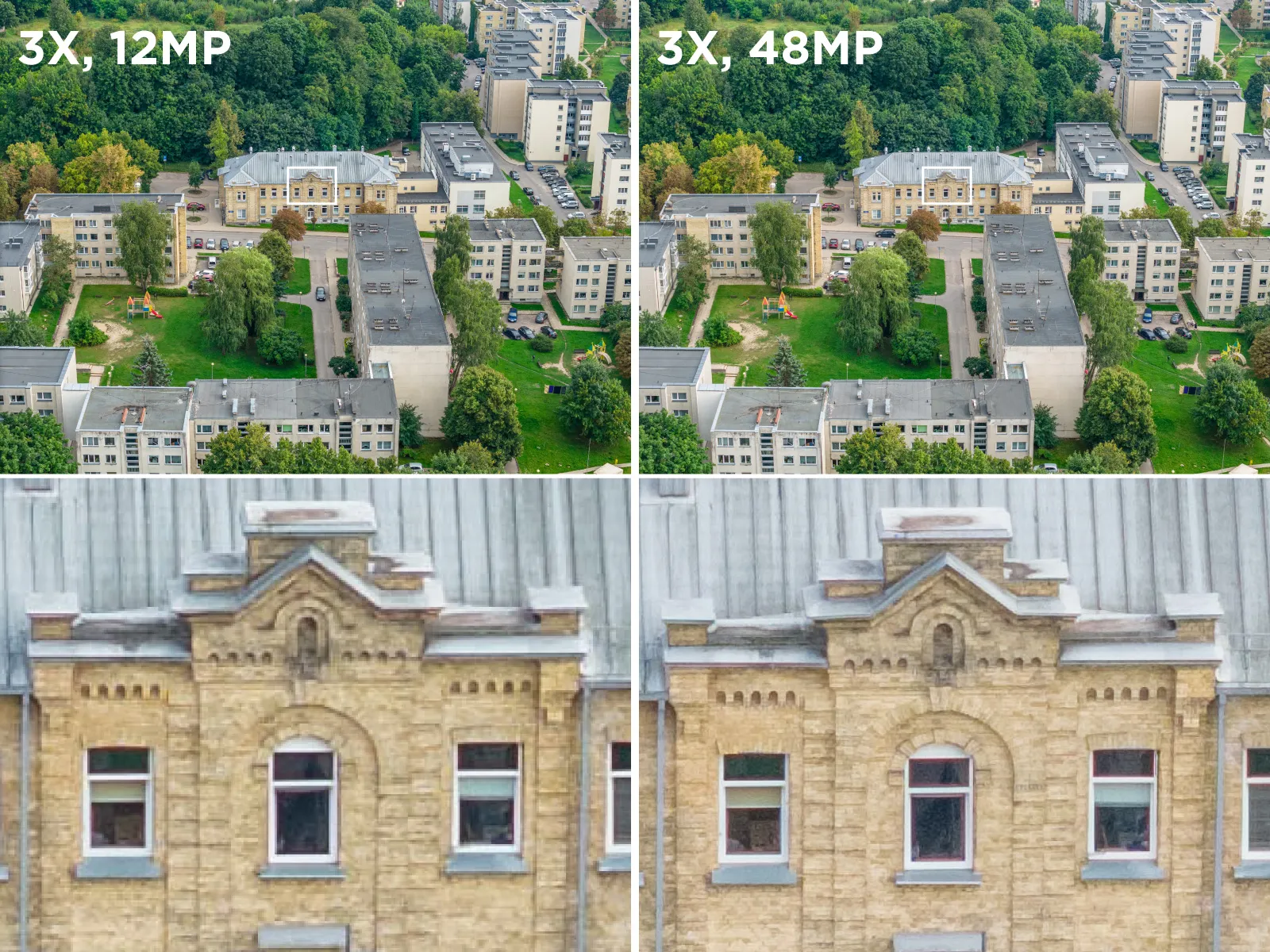 Regarding low light photography, there is one big difference between the two resolution modes: 12-megapixel mode allows up to 8 seconds of exposure for both modules, whereas the 48-megapixel mode caps out at 2 seconds.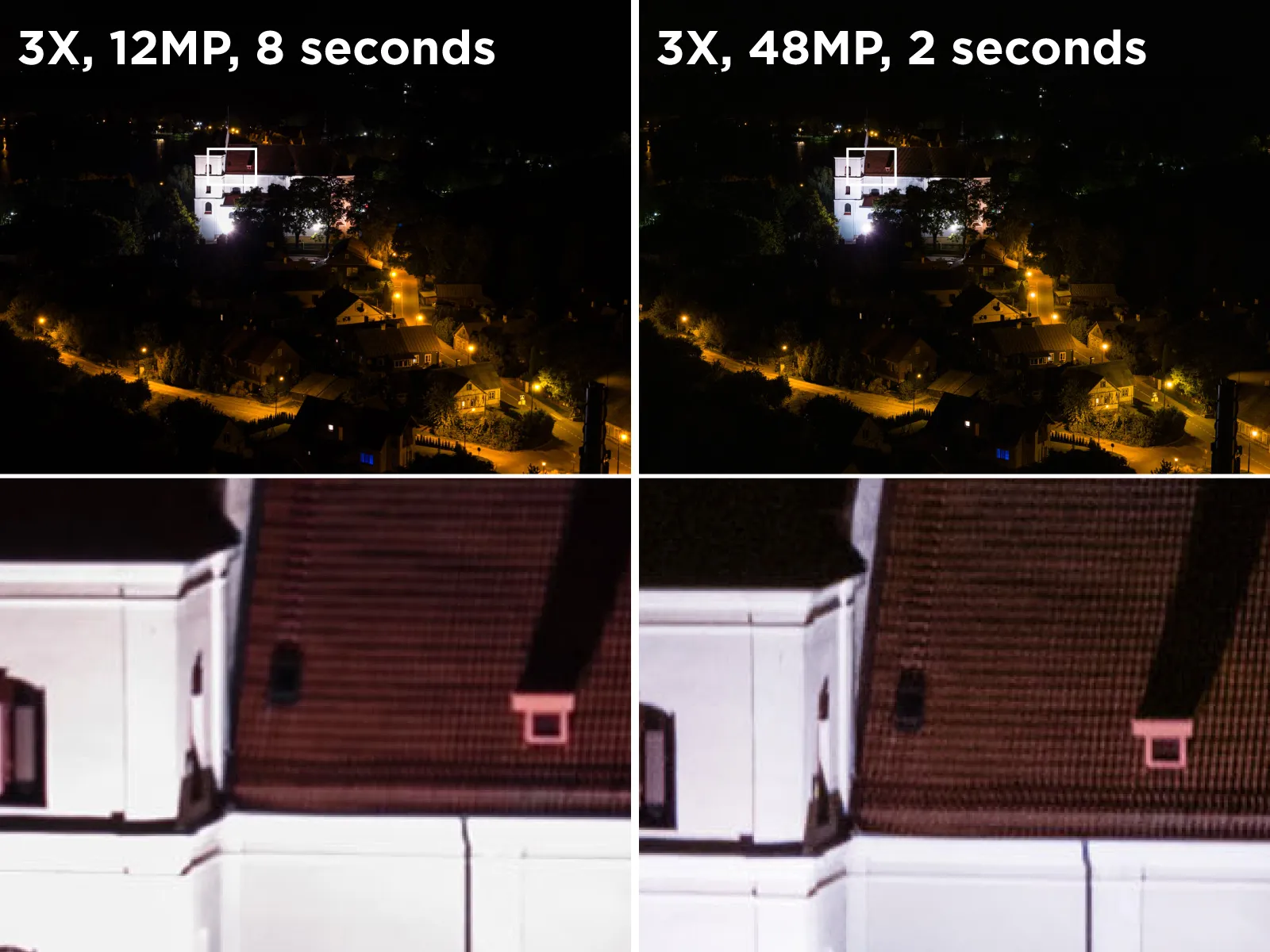 It is not easy to get an 8-second exposure from a drone. The conditions must be ideal to avoid introducing motion blur for a long exposure, but it is possible. If you manage to do it, the longer exposure time at lower ISO will result in less noise. But we found that shooting in 48-megapixel mode at 2-second exposure and then brightening a raw image up by two stops in post-production is a much more efficient way of obtaining detailed low-light photos.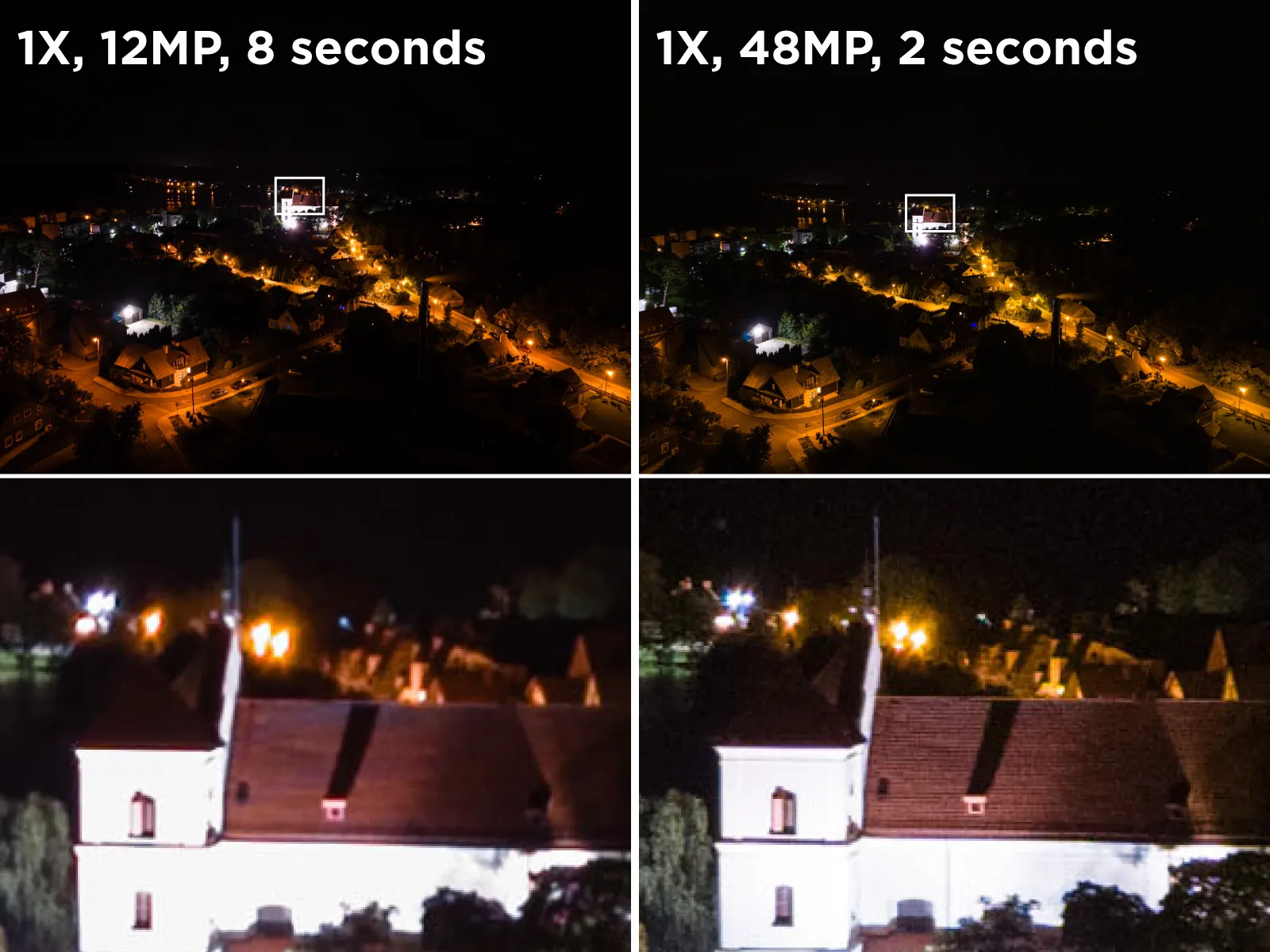 To summarize, the photo quality of both modules is good, and it will not limit your creativity in any way. The fact that these cameras do not contain variable apertures does not impact photography much, and there are no genuine issues with the DJI Air 3 regarding photos.
Air 3 Video Quality
DJI Air 3 can do 4k video from 24 to 60 frames per second. Video quality is on par with current-generation drones; only deep technical dives can evaluate differences in color accuracy and dynamic range. One shortcoming is the lack of variable aperture, which means ND filters are necessary for those who want to control the motion blur in their videos.
No proper D-Log mode exists, but 10-bit HLG and D-Log M make up for that. If you need slow motion, there is 1080p at 200 frames per second or 4k at 100 fps. There is also the night mode which is not very useful.
DJI Air 3 also features vertical video modes, which take advantage of the 4:3 sensor format and can provide up to 2.7k 9:16 video. If you need vertical video - this resolution is acceptable and much better than cropping in post-production.
These features, tracking modes, and hyperlapse modes are available with 1x and 3x camera modules. Only the gimmicky quick shots and master shots have the wide angle lens and some other limitations. It is much more fun, and results are much better if you learn to do these shots in regular flying modes while utilizing subject tracking.
DJI Air 3 Compared to Mavic 3 Classic and Pro
The closest price competitor from DJI themselves is the Mavic 3 Classic. The main differences are that the Air 3 has a 3X tele camera while the Classic has a variable aperture and a larger sensor. Which should be your priority is entirely up to you. Both drones fall under the C1 category and have similar flight performance.
The 3X module is extremely enjoyable and provides a new aerial perspective. In many cases, this is much more powerful than having the better quality camera of the Mavic 3 Classic. A larger sensor, D-Log mode, 5k resolution, and other technical features will benefit only professional filmmakers. For everyone else, the Air 3 is the better option.
The Mavic 3 Pro is worth your money if you are a professional. It has everything the Air 3 does but is much more expensive and heavier. But the Pro goes over to the C2 class of drones. If you must stay under C1, our vote still goes to the Air 3 vs. the Mavic 3 Classic because that tele lens can set you apart in your filmmaking. High-quality regular footage is still obtainable with the DJI Air 3, and there is no shortage of ND filters for proper motion blur.

Additional Comments
Here are a few additional comments from our testing that did not fit the flow of previous chapters:
Omnidirectional obstacle avoidance works well, and the updated version lets you get quite close to the obstacle.

The 3X module has quite a long maximum focusing distance of about 2 meters. It means no portraits with this camera. Overall a minor inconvenience for most cases; even when doing an inspection, you will not be getting much closer than a couple of meters when flying next to an obstacle.

There are still no sharpening and noise reduction settings. Few modern DJI products have these.

Maximum ISO values fluctuate between different color modes and photo resolutions. Fundamental maximum sensor sensitivity does not, despite what numbers might say.
Conclusion
Air 3 is another boring product from DJI. And by boring, we mean it is pretty flawless and without revolutionary innovation. It works perfectly, has a great camera system, is safe to use, compact, and well-made. Gone are the days of beta testing firmware for DJI, like it was with the original Mavic 3. Now you have all the software features right at launch. The only criticism we have is the incremental nature of the improvements we get. Now that the trifecta of the threes in the three tiers of DJI drones is complete, we will be expecting something new when a "4" shows up.
Ready to get started with your project?
You can choose from our three different plans or ask for a custom solution where you can process as many photos as you can!
Free 14-day trial. Cancel any time.